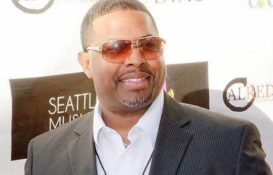 Chairman and Founder, Theo "Mr. Network" Hall III, of ONE FAMM MUSIC GROUP, LLC., has created, produced and marketed over one hundred albums throughout his career. These albums have generated over $100 million in revenue for such companies as Universal, Def Jam, Sony, WEA and No Limit Records.
ONE FAMM MUSIC GROUP is currenly distruted by Sony/Universal Music Group. Artist Signed to the label Dwayne D'Arby, MKYJ, Scott Elkins, MBYS, Dre The Party God, Sarah Rim, D~Logic, Zuu, Dray Love, XP, Tyler Green, Libra, Michale Edwards, ZephyrThaWolf and Bandz Marino
He began his Entertainment career by D.J. at house parties. While performing as D.J. Mr. Hall got involved with the business side of the record industry. In 1991 NEXTLEVEL Promotions and FAMM Sports and Entertainment merged and have been working together ever since. Octavius and Theo became the king of clean up and the godfathers of street promotions for the West Coast. If you wanted your project to move then you found us and we took your project to the NEXLEVEL!!
Mr. Hall has had the chance to work with the following artists: Master P, E-40, Too Short, Celly Cel, Spice 1, B-Legit, Suga T, Bad Azz, D-Shot, Eric B., Mystical, Nelly, Olivia, Koffee Brown, Killa Tay, Rap-a-Lot Records, No-Limit, BMG, Universal Records, Janet Jackson, Jill Scott, Lil Jon Eastside Boys, Suga Free, Cash Money, Kurupt, twista, Brotha Lynch, Roscoe, Yukmouth and many more.
A variety of these projects have surpassed the "Gold" (500,000) and "Platinum" (1,000,000) sales levels and earned industry recognition through Grammy Awards, Soul Train Awards, BET Awards and Source Awards. A plethora of other projects have been used by major networks.
Platinum: Records/Marketing/Promotions
Hot Boys – Cash Money
Big Tymers – Cash Money
98 degrees – Revelation
Boys II Men
3 Door Down
Ludacris – Word of Mouf
Nellyville – Nelly
Eminem – Eminem Show
Gold:Records/Marketing/Promotions
Lyfe 268-192 – Lyfe Jennings

One Night Only Greatest Hits – Elton John
BG – Cash Money
Put Yo Hood Up – Lil Jon & The Eastside Boyz
Huey – Pop, Lock, and Drop it.
Johnny Blaze Clothing Deal
St. Lunatics & Nelly
Eminem and D12 European Tour
Method Man
Lil Moe
Olivia
Movies
The Wash
TV Series Shows
Fastlane